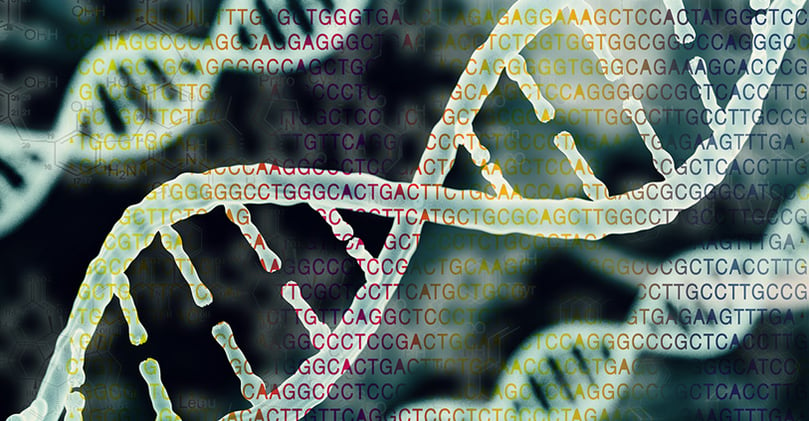 Answers provided by Alexis Santana, PhD – Manager, Business Development at Champions Oncology
How did Champions become interested in the challenge of making genomic, proteomic and transcriptomics data more easily interpretable and visually accessible to oncology researchers?
Champions Oncology provides end-to-end innovative research and development solutions to clients with the goal of delivering greater certainty in the fight against cancer. We have historically recognized the importance of multi-omic data in predicting patient responses and the treatment of cancer.
Therefore, we developed our Lumin bioinformatic analysis software to level the playing field for researchers by providing a platform capable of analyzing proteomic, genomic and transcriptomic datasets in real time. The software was designed for ease of use, allowing scientists to perform advanced bioinformatic analysis and to gain novel insights at the click of a button, without the requirement of coding.
Lumin Bioinformatics is Champions' new SaaS-based platform. What kinds of data can be utilized within the platform itself?
The Lumin platform permits users to perform advanced statistical modeling and analytics using pre-loaded datasets or their own genomic, transcriptomic and proteomic datasets. The Lumin analytic engine features a comprehensive dataset with robust AI, analytics & visualizations. The platform houses analytical tools that perform mutational profiling, differential gene expression or GSVA pathway analysis, which can be linked to pharmacological response rates. Users can also build gene dependency maps and interactive protein networks, leveraging protein:protein interaction data from the Pathway Commons that are overlayed with quantitative and phospho-proteomic data. Champions will soon be adding an additional AI capability into the Lumin Bioinformatic analysis software that leverages JNMF (Joint non-negative matrix factorization) and ARACNE (Algorithm for the Reconstruction of Accurate Cellular Networks) to identify gene targets for biomarker discovery.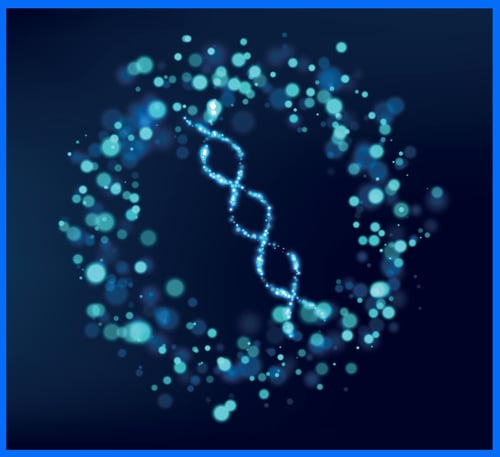 How has Lumin Bioinformatics improved oncology knowledgebases for researchers?
Public datasets lack depth for advanced correlative analyses involving specific pathway activity, drug-specific responses, and functional readouts. Access to Champions' proprietary PDX dataset is included with a Lumin subscription and has substantial depth in molecular, functional, and pharmacology characteristics, enabling multivariate mechanistic analyses. We are continuously expanding our clinically relevant PDX bank and soon will have 1,000+ NGS datasets from both solid and primary heme malignancies. For these datasets, we include clinical response, clinical annotations, in vivo standard of care responses and proteomic sequencing access. Using proteomics data, we will no longer have to rely on correlations to predict protein abundance, localization, or mutational status, as we now have data to validate.
How do the other Lumin platform products, such as Lumin Validate, Lumin Acuity and partnerships with Code Ocean, add value to oncology researchers?
Lumin Acuity provides 35 hours of 1:1 custom bioinformatics and software development support with our in-house experts. Lumin Acuity hours are deducted by task and never expire so they can be used as needed for pre-clinical/clinical predictive modelling, pre- and post- study analysis, and Lumin user account customization to fit all your bioinformatics needs.
Lumin Validate provides a high throughput biomarker validation platform that is guided by sophisticated bioinformatics support via Lumin Acuity. This platform provides clients the option to target an unlimited number of genes for siRNA knockdown ex vivo, with proliferation and IO functional readouts available.
Code Ocean is a computational research platform that permits users to plug, store, organize and share data within their organization. In partnership with Champions Oncology, the Code Ocean capsule provides a customizable computing environment where users can input R and/or python scripts to analyze the 20,000+ public and proprietary cancer datasets (WES, RNA-seq, proteomics, phospho- proteomics, clinical annotations and responses) housed within Lumin.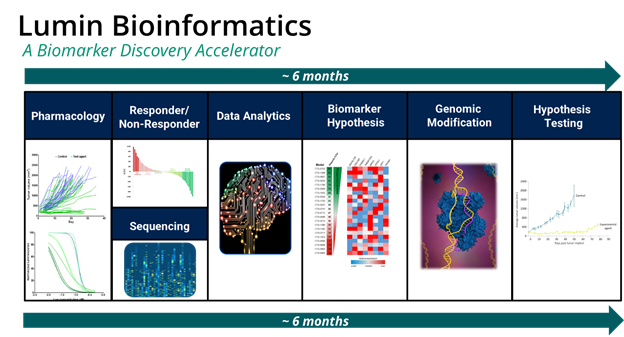 For an Oncology Researcher, what are some specific ways that a target could be evaluated as a potential biomarker using computational analysis and pharmacology models at Champions?
Lumin Bioinformatics software lies at the center of a biomarker discovery accelerator by providing access to well characterized and robust proteomic, genomic, and transcriptomic datasets from clinically relevant and highly testable PDX models. Using the Lumin software to identify potential biomarkers, clients can confirm their biomarker discovery hypothesis through Lumin Validate in less than 8 weeks by performing targeted siRNA knockdown and functional testing using Champions' PDX models.