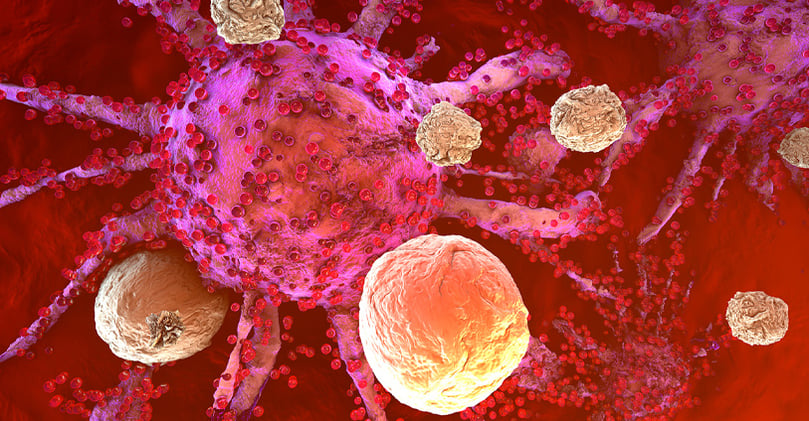 Chronic lymphocytic leukemia (CLL) is one of the most commonly occurring hematologic malignances with no known cure and is defined by the clonal expansion and accumulation of CD5+ B cells in the blood and bone marrow. Standard treatments to manage disease include chemotherapy and rituximab (anti-CD20 monoclonal antibody). Newer therapies that are less prone to resistance or treatment failure are currently being examined, such as Bruton tyrosine kinase (BTK) inhibitors and anti-CD20 biosimilars[1],[2].
T cells play a critical role in anti-tumor responses, but CLL patients typically have CD4+ and CD8+ T cells with functional and phenotypic changes consistent with exhaustion that is likely to limit their efficacy[3]. Untreated CLL patients commonly have elevated levels of regulatory T cells (Tregs) in peripheral blood, and this increase in Tregs can cause immune suppression and allow malignant CLL blasts to proliferate as anti-tumor immune responses are suppressed[4]. Phenotypic characterization of T cells provides critical insights into the potential efficacy of different immuno-oncology treatments, as recently described in a study that identified T cell signatures associated with the efficacy of chimeric antigen receptor (CAR) T cell-based treatment of CLL[5].

Champions Internal data collected from the CLL VitroScreen evaluating Venetoclax treatment ex vivo
Newly developed immuno-oncology therapies can reverse immune suppression and restore T cell functions. Treatment with BTK inhibitors such as ibrutinib have been shown to improve cytotoxic T cell functions, suppress Tregs, decrease immune checkpoint molecule expression and restore cytokine responses[6],[7],[8]. Ibrutinib also appears to attenuate the inflammatory environment in the bone marrow that allows CLL B cells to suppress antitumor responses[9]. Together these effects can restore T cell function and improve antitumor responses to CLL, especially relapsed or refractory (R/R) CLL. Venetoclax is another recently licensed R/R CLL treatment that inhibits the function of the antiapoptotic protein B cell lymphoma 2 (Bcl2), which is constitutively expressed in CLL cells and causes resistance to apoptotic cell death[10]. Venetoclax is a highly selective inhibitor that can induce apoptosis in CLL and reduce immunosuppression and can be combined with other immune-oncology treatments. Pevonedistat is a first-in-class Nedd8-activating enzyme inhibitor that can sensitize CLL cells to death-receptor mediated apoptosis[11] and has been given a Breakthrough Therapy Designation for the treatment of higher-risk myelodysplastic syndromes, like CLL, in combination with other chemotherapeutics[12].
These recent breakthroughs in immuno-oncology development highlight the importance of functional T cell responses and the flexibility of the immune system that allows for such responses to be restored, even under chronic immunosuppression.
---
[1] Freeman CL, Sehn LH. A tale of two antibodies: obinutuzumab versus rituximab. Br. J. Haematol. 2018 Jul;182(1):29-45.
[2] Burger JA, O'Brien S. Evolution of CLL treatment—from chemoimmunotherapy to targeted and individualized therapy. Nature Reviews Clinical Oncology. 2018. 15(8), 510-527.
[3] Riches JC, Davies JK, McClanahan F, et al. T cells from CLL patients exhibit features of T-cell exhaustion but retain capacity for cytokine production. Blood. 2013;121(9):1612-1621.
[4] De Matteis S, Molinari C, Abbati G, et al. Immunosuppressive Treg cells acquire the phenotype of effector-T cells in chronic lymphocytic leukemia patients. J. Transl. Med. 2018;16(1):172.
[5] Fraietta, Joseph A., et al. "Determinants of response and resistance to CD19 chimeric antigen receptor (CAR) T cell therapy of chronic lymphocytic leukemia." Nature Medicine 24.5 (2018): 563-571.
[6] M. Long, K. Beckwith, P. Do, B.L. Mundy, A. Gordon, A.M. Lehman, K.J. Maddocks, C. Cheney, J.A. Jones, J.M. Flynn, L.A. Andritsos, F. Awan, J.A. Fraietta, C.H. June, M.V. Maus, J.A. Woyach, M.A. Caligiuri, A.J. Johnson, N. Muthusamy, J.C. Byrd. Ibrutinib treatment improves T cell number and function in CLL patients. J. Clin. Invest., 127 (8) (2017), pp. 3052-3064.
[7] K. Kondo, J.A. Burger, K. Micheal, J. Tran, M. Muftuoglu, M. Daher, H. Shaim, P. Thompson, N. Imahashi, A. Alsuliman, W. Wierda, E. Liu, E.J. Shpall, K. Rezvani. Ibrutinib can modulate the T cell response in chronic lymphocytic leukemia by reducing PD1/PDL1 interactions. Blood. 126 (23) (2015), p. 1737.
[8] H.M. Parry, N. Mirajkar, N. Cutmore, J. Zuo, H. Long, M. Kwok, C. Oldrieve, C. Hudson, T. Stankovic, S. Paneesha, M. Kelly, J. Begum, T. McSkeane, G. Pratt, P. Moss. Long-term ibrutinib therapy reverses CD8(+) T cell exhaustion in B cell chronic lymphocytic leukaemia. Front. Immunol., 10 (2019), p. 2832.
[9] P. Bachireddy, C.J. Wu. Arresting the inflammatory drive of chronic lymphocytic leukemia with ibrutinib. Clin. Cancer Res., 22 (7) (2016), pp. 1547-1549.
[10] de Weerdt I, Hofland T, de Boer R, et al. Distinct immune composition in lymph node and peripheral blood of CLL patients is reshaped during venetoclax treatment. Blood Adv. 2019;3(17):2642-2652.
[11] Paiva C, Godbersen JC, Rowland T, Danilova OV, Danes C, Berger A, Danilov AV. Pevonedistat, a Nedd8-activating enzyme inhibitor, sensitizes neoplastic B-cells to death receptor-mediated apoptosis. Oncotarget. 2017 Mar 28;8(13):21128-21139.
[12] https://www.takeda.com/newsroom/newsreleases/2020/takeda-announces-u.s.-fda-breakthrough-therapy-designation-granted-for-pevonedistat-for-the-treatment-of-patients-with-higher-risk-myelodysplastic-syndromes-hr-mds/.