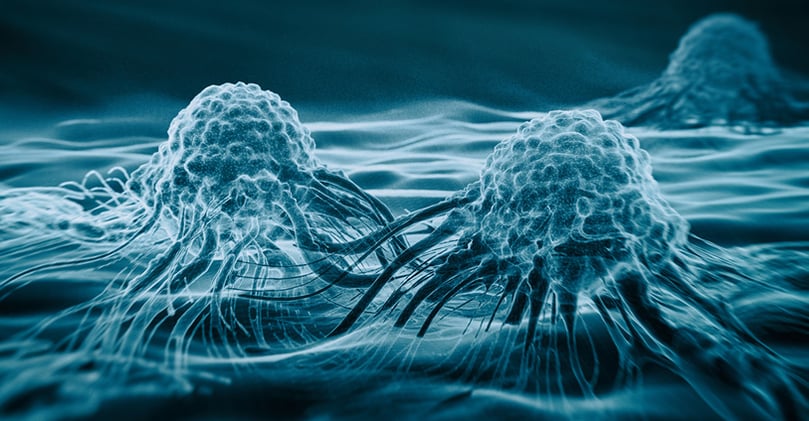 Ovarian cancer remains one of the leading causes of mortality for women with gynecological cancers and continues to be associated with stubbornly low 5-year survival rates. Depending on the stage or type of ovarian cancer, localized treatments including surgical resection or radiation may be sufficient. Treatment of metastatic ovarian cancer may include surgery and radiation combined with chemotherapy. Hormone therapy is also typically combined with chemotherapy for targeted reduction of estrogen and/or stimulation of progesterone for the targeted treatment of ovarian stromal tumors that produce high levels of estrogen. Nonetheless, many of these treatments have limited efficacy for treating metastatic ovarian cancer.
Advances in targeted ovarian cancer treatments have been facilitated by identification of cellular replication machinery in some cancer subtypes, including defects in the breast cancer-associated protein (BRCA)1 and BRCA2 genes, which play critical roles in DNA repair and transcription regulation[1]. Poly (ADP-ribose) polymerases (PARP) are a family of enzymes that can repair single strand DNA breaks through the base excision repair pathway[2]. PARPs can work together with normal BRCA1/2 to repair double strand DNA breaks by the homologous recombination (HR) pathway. Preclinical studies have shown that PARP inhibitors are effective in cells with BRCA1/2 mutations because these mutations combined with PARP inhibition cause synthetic lethality due to blockade of multiple DNA repair pathways.
Olaparib was the first PARP inhibitor approved for the treatment of germline BRCA1/2-mutated metastatic ovarian cancer in 2014[3]. This treatment was recommended for patients who had undergone three or more rounds of chemotherapy. Olaparib was later approved as a first-line maintenance therapy for germline or somatic BRCA1/2 mutations as well for the treatment of advanced ovarian cancers that have partial or complete responses to first-line platinum-based chemotherapies. Two other PARP inhibitors are also currently approved for different ovarian cancer diagnoses including rucaparib, which is approved for the treatment of germline BRCA1/2 mutations following two rounds of chemotherapy and for maintenance therapy following platinum-based therapies regardless of BRCA mutation status. Similarly, niraparib is approved to treat ovarian cancers with BRCA1/2 mutations or genomic instability and disease progression following platinum-based chemotherapies.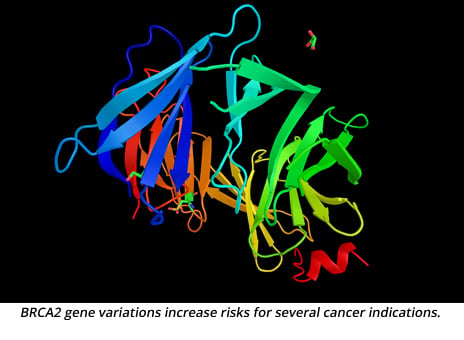 Like many other targeted therapies, some patients are completely unresponsive to treatment or develop resistance to PARP inhibitor monotherapy. Recent studies have described promising results associated with combined treatments, including PARP inhibitors combined with anti-angiogenic drugs like bevacizumab[4] or immune check point inhibitors like pembrolizumab[5]. There are currently three ongoing phase III first-line trials comparing the efficacy of combining PARP inhibitors and immune checkpoint blockade with VEGF inhibitors. Several thousand women are being enrolled in these studies with a goal of trying to determine if these combinations improve outcomes[6].
PARP inhibitors continue to be effective for treating hormone receptor-negative tumors but are less effective in treating hormone-receptor-positive ovarian tumors. Current trials are exploring the use of hormone inhibitors to disrupt hormone receptor signaling in ovarian tumors and render them sensitive to PARP inhibition[7].
PARP inhibitors have provided clinical benefits to ovarian cancer patients who previously had limited treatment options. Future studies will likely improve the efficacy of PARP inhibition as a monotherapy or in combination with other targeted therapies.
---
[1] Venkitaraman AR. Functions of BRCA1 and BRCA2 in the biological response to DNA damage. J Cell Sci. 2001 Oct;114(Pt 20):3591-8.
[2] D'Amours D, Desnoyers S, D'Silva I, Poirier GG. Poly(ADP-ribosyl)ation reactions in the regulation of nuclear functions. Biochem J. 1999 Sep 1;342 ( Pt 2)(Pt 2):249-68.
[3] Franzese E, Centonze S, Diana A, Carlino F, Guerrera LP, Di Napoli M, De Vita F, Pignata S, Ciardiello F, Orditura M. PARP inhibitors in ovarian cancer. Cancer Treatment Reviews. 2019 Feb 1;73:1-9.
[4] Ray-Coquard I, Pautier P, Pignata S, Pérol D, González-Martín A, Berger R, Fujiwara K, Vergote I, Colombo N, Mäenpää J, Selle F. Olaparib plus bevacizumab as first-line maintenance in ovarian cancer. New England Journal of Medicine. 2019 Dec 19;381(25):2416-28.
[5] Konstantinopoulos PA, Waggoner S, Vidal GA, Mita M, Moroney JW, Holloway R, Van Le L, Sachdev JC, Chapman-Davis E, Colon-Otero G, Penson RT, Matulonis UA, Kim YB, Moore KN, Swisher EM, Färkkilä A, D'Andrea A, Stringer-Reasor E, Wang J, Buerstatte N, Arora S, Graham JR, Bobilev D, Dezube BJ, Munster P. Single-Arm Phases 1 and 2 Trial of Niraparib in Combination with Pembrolizumab in Patients With Recurrent Platinum-Resistant Ovarian Carcinoma. JAMA Oncol. 2019 Aug 1;5(8):1141-1149.
[6] Elyashiv, Osnat, Yien Ning Sophia Wong, and Jonathan A. Ledermann. "Frontline Maintenance Treatment for Ovarian Cancer." Current Oncology Reports 23.8 (2021): 1-10.m
[7] Matulonis UA, Wulf GM, Barry WT, Birrer M, Westin SN, Farooq S, Bell-McGuinn KM, Obermayer E, Whalen C, Spagnoletti T, Luo W. Phase I dose escalation study of the PI3kinase pathway inhibitor BKM120 and the oral poly (ADP ribose) polymerase (PARP) inhibitor olaparib for the treatment of high-grade serous ovarian and breast cancer. Annals of Oncology. 2017 Mar 1;28(3):512-8.