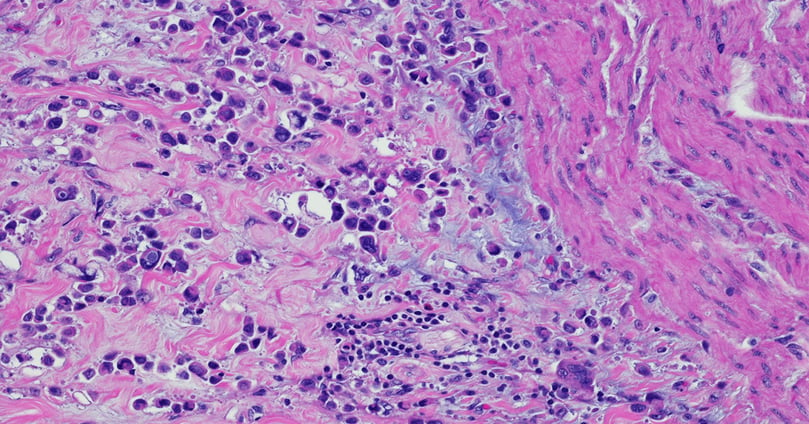 Plasmacytoid carcinoma of the urinary bladder – H&E Staining
Immunohistochemistry (IHC) is a technique that originates in the early twentieth century but continues to be a valuable method that forms the backbone of molecular pathology. IHC is used for histological examination of tissues and specifically detects the presence of a molecule, such as a tumor antigen. IHC uses antibody-based labeling in which the primary antibody detects the target of interest and the secondary antibody detects the primary antibody which is linked to a molecule for microscopic visualization. Many different secondary antibody labeling modalities exist, including fluorescence, enzyme-mediated reactions and colloidal gold, and different labels are suited to specific microscopy platforms.
Consider these five aspects of IHC as you implement this technique in preclinical cancer research:
Quantitative measurements. IHC can be used as a qualitative measurement,
but unlike many other visualization techniques, IHC can also be used as a quantitative measurement because antibodies that label specific parts of tissues or cells can be counted by a pathologist or with a computer-aided system. Developing robust validated quantitative IHC staining and visualization methods allows researchers to rely on the accuracy of this data.
Customizable. IHC methods can be adapted to detect any cellular marker, given that a monoclonal antibody exists or can be made that specifically detects this marker. Validation of a new primary or secondary antibody also includes determining any off-target staining caused by these antibodies as this can be a critical determinant in the utility of an antibody. The ability to customize IHC in this manner is crucial to preclinical research that seeks to identify new biomarkers associated with tumor progression or immunotherapy efficacy.

Flexibility. IHC can be used on almost any tissue type so long as it is processed correctly. Tissue samples from model animals as well as clinical biopsies can be fixed and sectioned in advance and stained at later times. Tumor microarrays (TMAs) can also be created and stained for evaluation of novel tumor markers or screening efficacy of drug candidates. This flexibility in sample type and handling highlights the overall utility of IHC.
Automation. Currently, several different systems exist for automated IHC staining, and advances in digital analysis of IHC samples have allowed larger batches of clinical samples to be processed and evaluated. Comparison of automated IHC methods with manual methods is essential to determining if these new approaches are accurate, sensitive, and reproducible.
The big picture. Several methods exist for staining different targets in an IHC sample, and this allows scientists and clinicians to gain critical insights into which cells and molecules are present in the tumor microenvironment (TME), including levels of immune checkpoint molecules or infiltration of critical anti-tumor cell types. Consider how IHC can complement other techniques that look at the tumor microenvironment, including flow cytometry and RNAseq.
IHC will continue to be a powerful tool in preclinical and clinical cancer research. Consider revisiting this classic technique as it has matured with the technological advances of the 21st century.