Head and Neck Cancers: New Mutation Insights Lead to New Therapies

Champions Oncology
·
2 minute read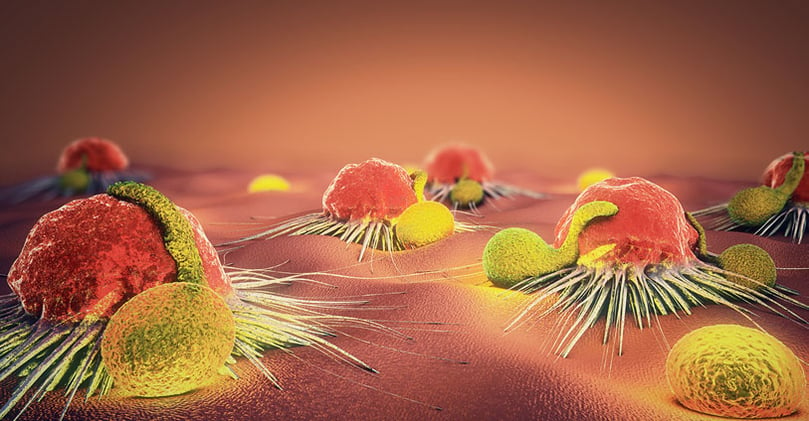 Head and neck squamous cell carcinoma (HNSCC) is one of the most common forms of cancer in the world. This heterogeneous disease is most often seen in men and is closely linked to tobacco usage, which can be enhanced by alcohol usage. Human papillomavirus (HPV) infection is an independent risk factor for HNSCC[1]. Most HPV- HNSCCs occur in the larynx and oral cavity, and HPV+ HNSCCs typically arise in the oropharynx[2]. Both HPV+ and HPV- HNSCCs are typically diagnosed at advanced disease stages and are often treated with an aggressive combination of surgery, radiotherapy (RT), and chemotherapy[3]. More recently, cetuximab, an IgG1 monoclonal antibody that targets epidermal growth factor receptor (EGFR) has been used in combination with radiotherapy and has shown some improvements in progression-free survival (PFS) and overall survival (OS)[4].
Advances in genomic technology have provided critical insights into the pathology of HNSCC subtypes. Some HNSCCs are now known to have high mutational burdens, which is like other cancers associated with carcinogen exposure. Analysis of HPV- and HPV+ HNSCCs in The Cancer Genome Atlas (TGCA) network has been instrumental in identifying genome defects common to both HPV+ and HPV- HNSCCs, as well as defects that are unique to each of these subtypes. Global analysis of all HNSCC subtypes identified TP53 as the most commonly mutated gene, but there tends to be lower percentage of TP53 mutations in HPV+ tumors versus HPV- tumors, likely related to HPV infection[5]. Activating mutations in PIK3CA and inactivating mutations in NOTCH1 are associated with both types of HNSCC. HPV- HNSCCs show inactivating mutations in TP53 and CDKN2A cell cycle suppressor genes and amplification of CCND1, which can all contribute to unchecked cell cycle progression. In contrast, HPV+ HNSCCs show expression of the E6 and E7 viral oncogenes, which can inhibit TP53 and RB1, as well as activation of cell cycle regulator E2F1[6]. Mutations in the MAPK signaling component HRAS have also been identified in a fraction of HNSCC specimens for which treatment options are limited. A recent clinical trial demonstrated encouraging efficacy in patients with recurring or metastatic HNSCCs carrying HRAS mutations[7] treated with tipifarnib, which is a farnesyltransferase inhibitor that can inhibit farnesylation of HRAS and membrane targeting and downstream signaling.
Recent insights into genomic variations associated with HNSCC subtypes is providing valuable information with respect to basic tumor biology as well as identifying potential therapeutic targets for preclinical development.
---
[1] Cognetti DM, Weber RS, Lai SY. Head and neck cancer: an evolving treatment paradigm. Cancer. 113(7 Suppl):1911-1932 (2008).
[2] Mehanna H, Beech T, Nicholson T, El-Hariry I, McConkey C, Paleri V, Roberts S. Prevalence of human papillomavirus in oropharyngeal and nonoropharyngeal head and neck cancer--systematic review and meta-analysis of trends by time and region. Head Neck. 35(5):747–55 (2013).
[3] Pignon JP, le Maître A, Maillard E, Bourhis J. & MACH-NC Collaborative Group. Meta-analysis of chemotherapy in head and neck cancer (MACH-NC): An update on 93 randomised trials and 17,346 patients. Radiother. Oncol. 92(1), 4–14 (2009).
[4] Bonner JA, et al. Radiotherapy plus cetuximab for locoregionally advanced head and neck cancer: 5-year survival data from a phase 3 randomised trial, and relation between cetuximab-induced rash and survival. Lancet Oncol. 11, 21–28 (2010).
[5] Westra, W. H. et al. Inverse relationship between human papillomavirus-16 infection and disruptive p53 gene mutations in squamous cell carcinoma of the head and neck. Clin. Cancer Res. 14, 366–369 (2008)
[6] Beck TN, Golemis EA. Genomic insights into head and neck cancer. Cancers Head Neck 1, 1 (2016).
[7] Ho AL, Brana I, Haddad R. et al. Tipifarnib in Head and Neck Squamous Cell Carcinoma with HRAS Mutations. J Clin Oncol. JCO2002903 (2021).