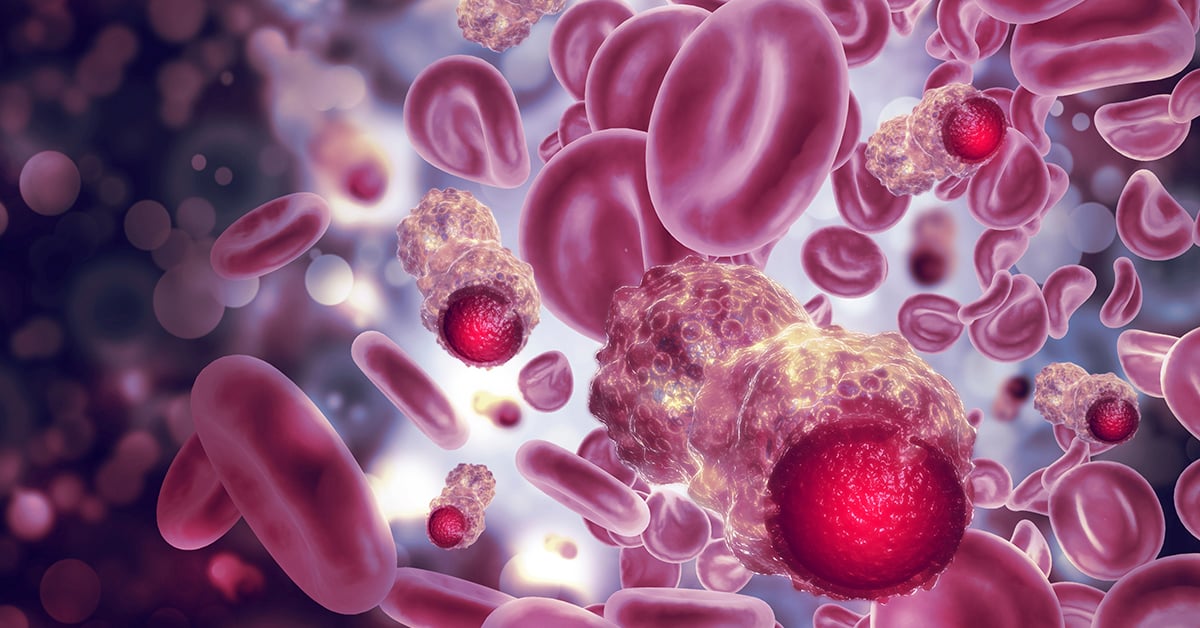 Chronic lymphocytic leukemia (CLL) is one of the most common forms of adult leukemia, and its chronic nature has made it a challenging blood cancer to completely cure. CLL affects B cells and is typically classified into two categories: little or no somatic hypermutation in the immunoglobulin heavy chain variable region (IGHV), called unmutated CLL, or high mutation levels in the IGHV gene, called mutated CLL[1]. Unmutated CLL is associated with more aggressive disease than mutated CLL, and the presence of these abnormal IGHV sequences, which is a part of the B cell receptor (BCR), leads to abnormal BCR signaling and the uncontrolled proliferation of these leukemic cells.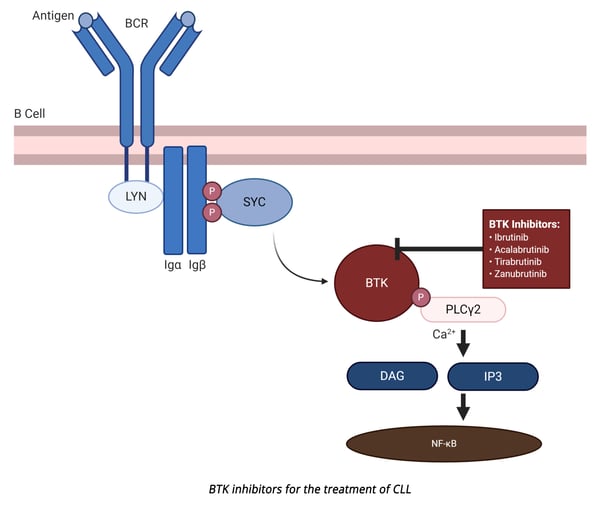 Bruton's tyrosine kinase (BTK) is a molecule downstream from the BCR that has been shown to be constitutively active in CLL and drives leukemic cell proliferation and lymph node homing[2]. Antigen binding to the BCR leads to engagement and activation of multiple protein tyrosine kinases via interactions with the cytoplasmic domain of the BCR, including Lyn and Syk, as well as translocation of BTK to the plasma membrane through interactions with phosphatidylinositol-3,4,5 (PIP3). Lyn and Syk phosphorylate BTK, which then activates multiple non-receptor protein tyrosine kinase signaling pathways, including NF-κB, MAPK, and phospholipase C γ and leads to controlled B cell proliferation and differentiation under normal conditions or uncontrolled proliferation for malignancies like CLL.
Ibrutinib is an irreversible BTK inhibitor that is an FDA-approved treatment for CLL. Ibrutinib forms a covalent bind with a cysteine residue (C481), which is in the BTK active site and thus inhibits kinase activity, include autoactivation[3]. This inhibition shuts down BCR signaling, reduces B cell proliferation and promotes apoptosis of leukemic cells. Both mutated and unmutated CLL are responsive to ibrutinib, and the drug has been used alone or in combination with rituximab to treat relapsed CLL[1]. In general, ibrutinib is well tolerated and shows continued efficacy during extended treatment[2].
Ibrutinib has been a clinical success, but a subset of CLL patients develop ibrutinib resistance, which has been mapped to a C481S mutation that prevents covalent binding of the drug to BTK and renders drug ineffective at inhibiting BCR signaling in leukemic cells[3]. Next generation BTK inhibitors are currently being studied for their efficacy in relapsed/refractory CLL and include vecabrutinib, ARQ 531, and LOXO-305. Vecabrutinib and LOXO-305 are reversible BTK inhibitors that can inhibit signaling in cells with wild-type or C481S-mutated BTK[4]. ARQ-531 is a non-selective reversible BTK inhibitor that can suppress signaling in cells with C481S BTK as well as cells with mutations in phospholipase C γ and has additional inhibitory activity against ERK signaling[5]. Acalabrutinib is a second generation irreversible BTK inhibitor that is being tested in treatment naïve CLL patients and appears to be better at selectively targeting C481 and has improved potency and a favorable toxicity profile[6].
BTK inhibitors have become an invaluable tool in the treatment of CLL and will continue to improve and provide therapeutic benefits. Additional studies are underway to evaluate the effects of BTK inhibitors with other targeted therapies, which may improve the efficacy and durability of these treatments.
---
[1] Burger JA, Barr PM, Robak T, Owen C, Ghia P, Tedeschi A, Bairey O, Hillmen P, Coutre SE, Devereux S, Grosicki S, McCarthy H, Simpson D, Offner F, Moreno C, Dai S, Lal I, Dean JP, Kipps TJ. Long-term efficacy and safety of first-line ibrutinib treatment for patients with CLL/SLL: 5 years of follow-up from the phase 3 RESONATE-2 study. Leukemia. 2020 Mar;34(3):787-798.
[2] Byrd JC, Furman RR, Coutre SE, et al. Three-year follow-up of treatment-naïve and previously treated patients with CLL and SLL receiving single-agent ibrutinib. Blood. 2015;125(16):2497-2506.
[3] Buhimschi AD, Armstrong HA, Toure M, Jaime-Figueroa S, Chen TL, Lehman AM, Woyach JA, Johnson AJ, Byrd JC, Crews CM. Targeting the C481S Ibrutinib-Resistance Mutation in Bruton's Tyrosine Kinase Using PROTAC-Mediated Degradation. Biochemistry. 2018 Jul 3;57(26):3564-3575. doi: 10.1021/acs.biochem.8b00391. Epub 2018 Jun 14. PMID: 29851337.
[4] Bond DA, Woyach JA. Targeting BTK in CLL: Beyond Ibrutinib. Curr Hematol Malig Rep. 2019 Jun;14(3):197-205. doi: 10.1007/s11899-019-00512-0. PMID: 31028669.
[5] Reiff SD, Mantel R, Smith LL, Greene JT, Muhowski EM, Fabian CA, Goettl VM, Tran M, Harrington BK, Rogers KA, Awan FT, Maddocks K, Andritsos L, Lehman AM, Sampath D, Lapalombella R, Eathiraj S, Abbadessa G, Schwartz B, Johnson AJ, Byrd JC, Woyach JA. The BTK Inhibitor ARQ 531 Targets Ibrutinib-Resistant CLL and Richter Transformation. Cancer Discov. 2018 Oct;8(10):1300-1315.
[6] Isaac K, Mato AR. Acalabrutinib and Its Therapeutic Potential in the Treatment of Chronic Lymphocytic Leukemia: A Short Review on Emerging Data. Cancer Manag Res. 2020;12:2079-2085.